Play the original scary maze game for free. Only 1% of people can reach level 5!
This is one of the hardest games out there, so don't get disappointed if you can beat the last level and finish the game.
Good Luck!
Hang up the joysticks and pause the Xbox games. Go back to the retro era playing one of the most successful online games of all times. Only the most daring and brave ones can face the challenge This Game puts in front of them. If you are a true fan of horror, you will enjoy this free flash game. What do you need to play it? A lot of skill and patience, a full screen and loud speakers.
Instructions
To play this game, you need to follow some simple game instructions. This scary game requires both fine motor skills and focus. To play, press the left button of the mouse and guide the hero of this uncomplicated story, a blue dot, to a red square. But be aware of not touching the walls of the maze or you will be sent back to the beginning. And don't forget to keep pressing that mouse!
If you have good eye-hand coordination, you will easily pass the first levels, but the difficulty gets higher once you reach the third level since the walls get tighter and tighter. Many have failed to get to the final level, think you could succeed? Then press play and start this fun and terrifying adventure. Will you have the courage to reach the final level?
About the game
Scary Maze is a free html5 game with a very simple, yet attractive, design. It doesn't have an intricate story with a lot of characters, nor super 3D graphics but it's still a favorite of the horror game players around the globe. It's also called the Exorcist Maze Game. If you wonder why then you should just keep in mind that, with this game, you get what you read.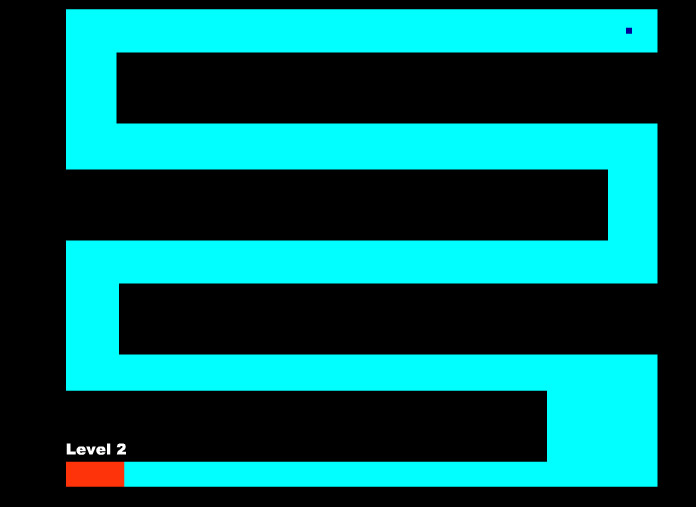 History of the game – How it all started…
Curious about the Scary Maze Game? Here are some interesting facts you might want to know about this horror game that has shocked and entertained thousands of thousands of people around the entire world! Who would have thought such a simple horror game would become an international sensation?
The game developer, Jeremy Winterrowd, surely didn't. He emailed his creation as a prank to his palls on Halloween. It got so popular that even Winterrowd's mom got the game through an email when one of her friends sent it to her!  One thing led to the other and, all of the sudden, the email chain became larger and larger and people from all nations, ages, and lifestyles got a taste of the game.
Winterrowd finally uploaded this flash game on his website on 2005. That version had a different aesthetic from the one the game has now. Instead of turquoise, it had bright orange/yellow in its design. Different versions of this flash game have been realized ever since the first person played the game and many more will surely come to keep amusing its players.
How many people played it so far?
So many we have lost the count. Winterrowd's website holds the count of Facebook likes, though. According to Facebook, 226k people liked this game, but we can guarantee you the other part that has played it and didn't like it was still too scared to approach a computer again.
Youtube is full of reactions that depict the greatness of this simple and free flash game: from Mandy's reaction when Miley Cirus pranked her on the Miley and Mandy Show, to dad's making their kids play it to scar them for life. Everybody has played this game, why haven't you yet?


Levels Walkthrough
Level 1: The maze has an L shaped type of form, looking upside down. Walls are far apart from each other. The red area is at the upper left part of the maze.
Level 2: Once level one is completed, you will start the maze again at the same spot as you left the first level. The maze is shaped as two S now, and the walls are placed closer to each other. The red area is located at the end of the S.
Level 3: Where levels 1 and 2 not a challenge for you? Okay, smart guy, what about now? The maze is shaped like a… umm… S? But the walls are closer to each other and the final path to reach the red area is so narrow you will definitely struggle to pass this level. Good luck, you will need it to complete it.
Level 4: Oh, so congrats! You are one of the few to pass the infamous third level of the Scary Maze. Bet you are feeling confident now, but let's see how do you do on this fourth level. The maze has become a labyrinth and the walls are so narrow one single bad move can send you back to the starting point.    
Level 5: It remains a mystery, will you be the one to unblock all the levels?


Tips and tricks
Here are some useful (survival) tips.
Don't play it if you have heart difficulties.

If you are in the company of elders, better not play the game in front of them.

If you are in the company of anyone you love, spare them the shock and don't play the game with them.

Trying to reach the red area at a certain level could be a waste of time. You will understand this better when you get there *wink*.
Other versions
The Scary Maze Game has released different versions since it was first created. If you enjoyed this game, you can also enjoy the second version. To keep enjoying more games like this, you can wander around our website. You will not only find more recent versions of this game but other free games that will give you tons of fun! There are also unblocked version which you can play at school or at work.
If you want to know how others reacted to this amazing free flash game and old favorite from all times, you should definitely check out Youtube. You will find a compilation of the best reactions to this game. There is even a Justin Bieber cameo in some videos, way more scarier than everything you have ever played before.
Comments